Buy the eBook on Amazon
Buy the paperback on Amazon
For 12 year old Arthur King. TV celebrity chef Miss Le Fay is a recipe for disaster – not least because each night for tea, he's forced to endure her food whilst watching with his parents, her twice-nightly show 'Cooking Magic!' But there is worse (if that were possible), for unbeknown to him and Miss Le Fay's adoring fans right across the globe (including Arthur's half-crazed parents), she is in fact the witch Morgan Le Fay – erstwhile enemy of the legendary King Arthur – who, disguising her spells as recipes, is cooking up a plot to take over the world.
Under her evil spell, thousands of men and women – among them, Arthur's dad – have suddenly taken to growing giant fruit and veg, which, at fetes across the country, will hatch an army of dragons. All that will come to stand in Morgan's way is Arthur, and all that will stand in his – although he means to help – is the hapless wizard of equally mythical yore, Merlin, whose own magic powers, on account of having been a pig for 1500 years, are a little rusty.
With Morgana's killer spells – like 'cheese and chutney melts' – to contend with, Arthur and Merlin stumble through time in a bid to thwart the witch's wicked scheme; forward to the court of King Frank I in his over extended, stone-clad semi-detached palace, and back to the time of Camelot and the knights of the Round table. Here, in Merlin's kitchen, in an ancient tome of three thousand pages, they discover the spell to reverse Morgan's powers, the most powerful spell known to man; Bubble and Squeak. With three of the four sacred ingredients already in their possession – cabbage, butter and onions – Arthur dispatches the knights on a quest to find the fourth, hitherto unknown in this part of the world – potatoes.
Will the knights succeed? Will Arthur and Merlin make Bubble and Squeak and thwart Morgan Le Fay at the local village fete? Or will the taste of her spells prove too good and an army of dragons hatch to help her take over the world!
Read the first three chapters
---
Illustrations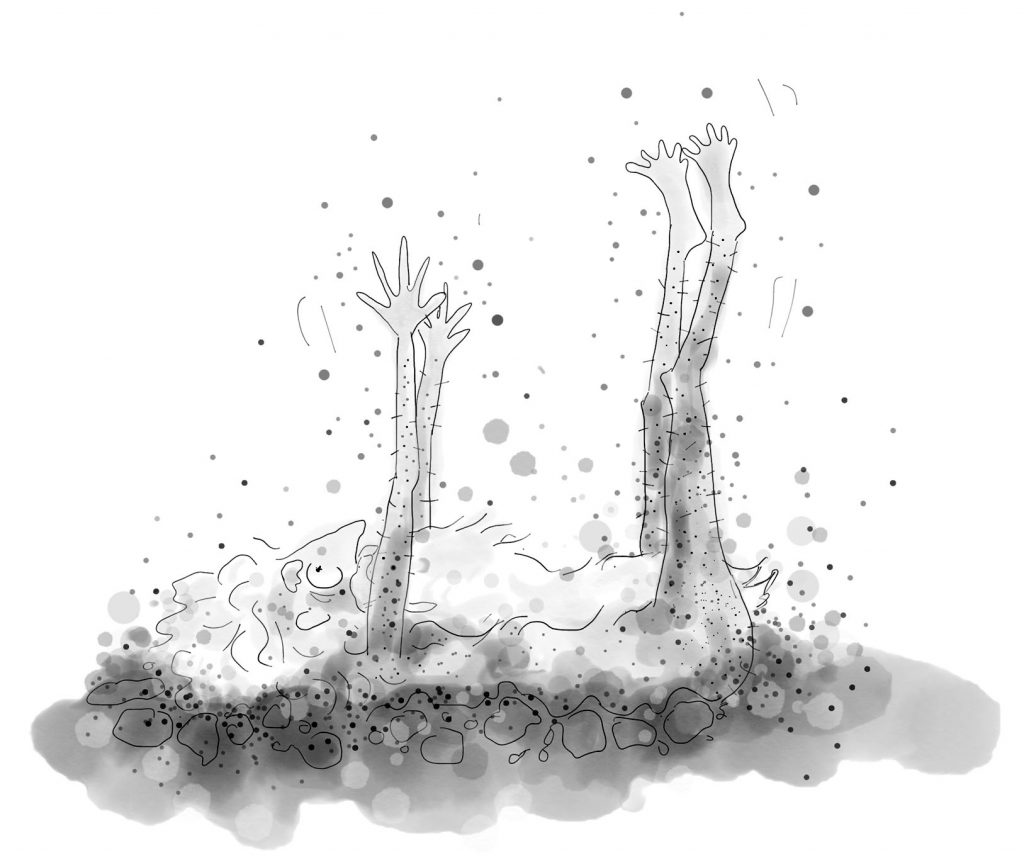 It was then, as he called her name again that Arthur noticed something strange about her trotters, in that they weren't trotters anymore; two of them were hands and two of them were feet. Furthermore, Myrtle now had a beard, and not just any beard, but a long, snowy-white beard which came down to her stomach. And where before she'd been fat and covered in mud, she was now thin and covered in mud and no longer a pig. In fact Myrtle was now a rather old man, lying on his back, his arms and legs sticking up in the air. His eyes open wide and staring up at the sky."Myrtle?" Arthur said again, at which point the old man, who was clearly not Myrtle started to speak.
"Ooooooh," he groaned, in a rather feeble voice. "Oh the shame. Oh the indignity of it all."
The next thing was to get Merlin a shower and some clothes. With Arthur's mum still asleep and lying on her bed, Arthur showed Merlin the shower then found an old suit of his dad's hanging in his wardrobe. Ten minutes later and Merlin had was still standing, looking at the water coming from the shower-head."Such power," he said. "To conjure rain is really very hard. You're very advanced for a boy of your age."
Arthur persuaded Merlin that he had to hurry up. He waited in the bathroom while Merlin washed and sang. He was clearly having the time of his life, or at least, the best time he'd had in the last sixteen hundred years.
"Arthur? What are you doing?"
It was his mum, knocking at the door.
"Arthur?" asked Merlin, poking his head around the shower curtain. Arthur couldn't help but laugh when he saw the wizard wearing his mum's floral shower cap.
"Who are you talking to?"
"No-one mum," Arthur replied. "I was just singing."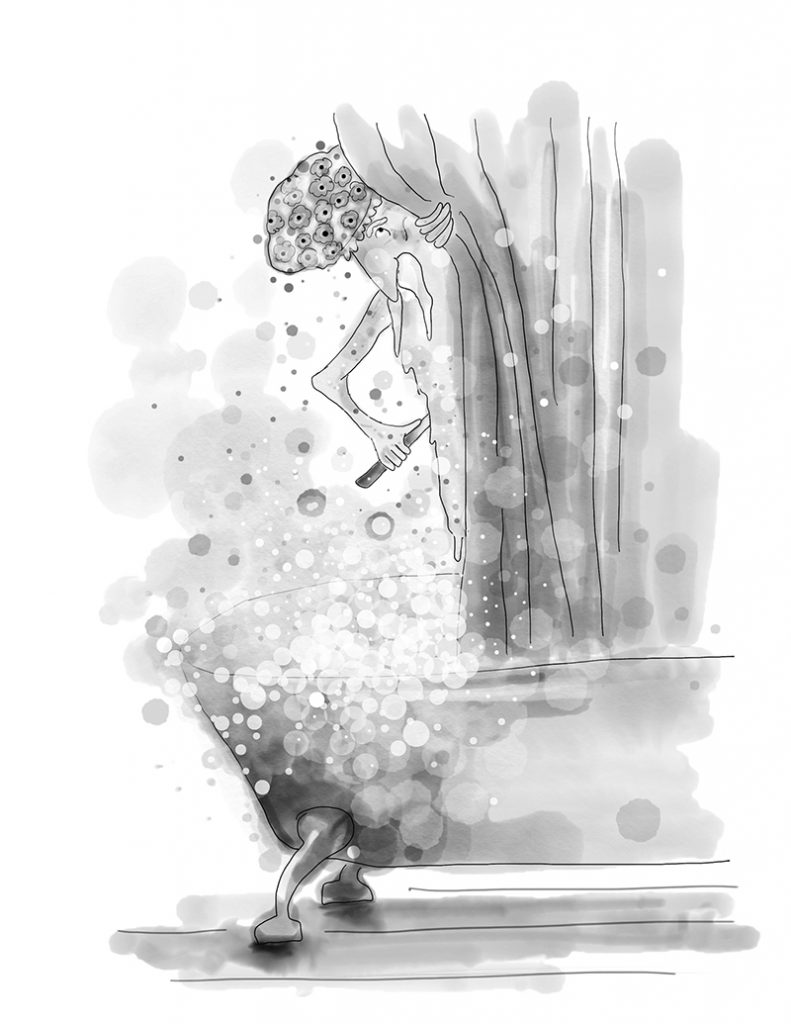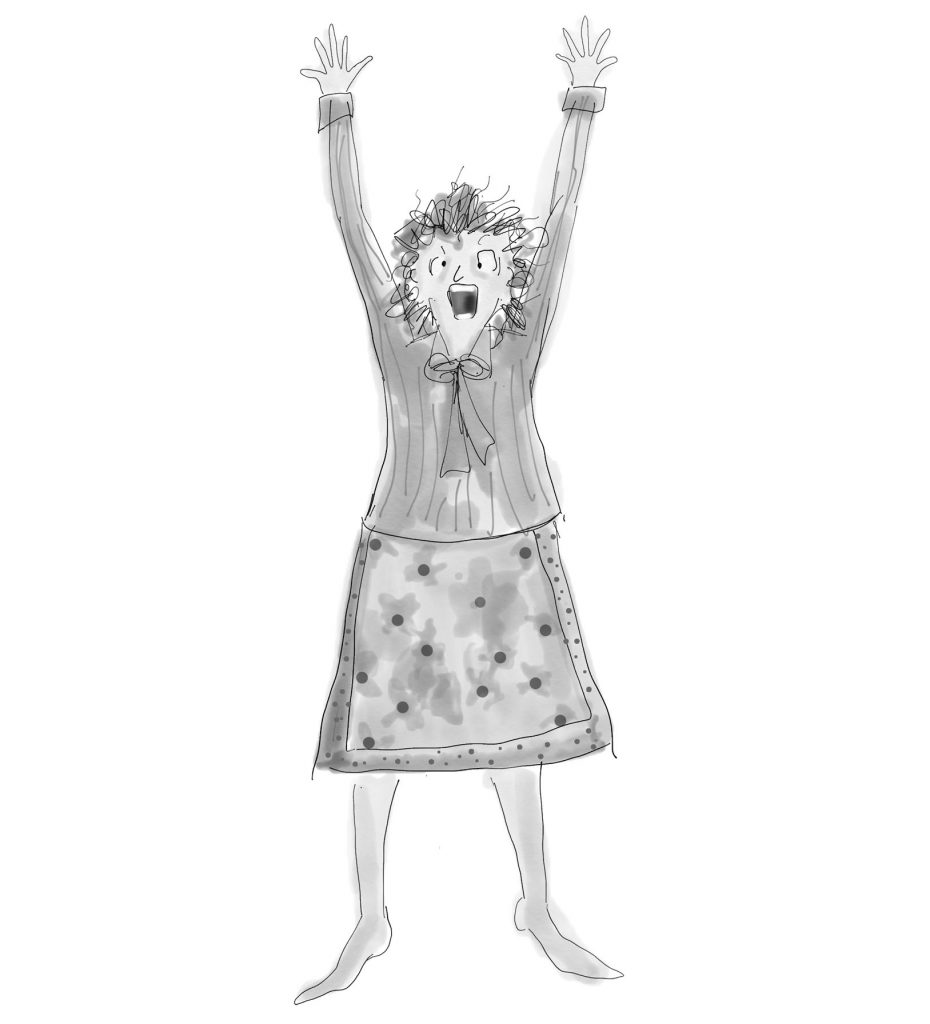 Finally, towards the end of the show she began to talk about Saturday's big event. NOT the school fete, but rather, that which was to come later on Saturday evening.
"At 7 o'clock," Miss Le Fay said huskily, "I will be hosting a LIVE three hour cook-along!"
"Eeeeeeeeee!" Mrs. King squealed, like one of the whales on her husband's tape. She leapt from her chair and clapped her hands around her face. "A LIVE three hour cook-along! I can't wait!" she exclaimed, drumming the table with the flats of her hand. "I CAN'T WAIT!!"
Arthur looked at his mum in shocked disbelief. He was sure she'd gone quite mad. Both his parents had totally lost the plot.
"So REMEMBER!" said Miss Le Fay, playing with her pearls. "Remember to buy your ingredients." And with this she went over the long list of things which everyone had to buy in order to prepare the very special meal that she would 'cook with the world' on Saturday.
Arthur's mum flew into a panic, running round like a headless chicken as she looked for a sheet of paper on which to write all the things she needed.
---
Miss Le Fay's 'Cooking Magic!'
So just how does an Arthurian Sorceress take over the modern world? Politics? A computer virus? No! She becomes a TV celebrity chef, the perfect way to disguise her spells and have them spread across the globe by an army of gullible fans. But who could resist such delights as 'Fruit Meringue' and 'Pineapple and Lemon Souffle'?
If you like these spells, be sure to check out the others!